Jennifer C Nieman
Oh Hey!
I'm Jen & I have a love affair with beauty. All sorts…. fashion, traveling, food, people, fluffy things, & of course my constant love affair with makeup & hair products. I've seriously had this affair since I was a young child. I was constantly playing with my mothers makeup, this I would say is one of my fondest memories I have. I knew at a young age that this was the fire that lights my soul & I had to pursue it & graciously excepted it with open arms. Making people feel their best is what makes my soul truly the happiest.
Born in raised on a farm in Michigan I had a fantasy of doing great things. At 20 years old I packed my bags and moved across the country to sunny Los Angeles to further my education in the makeup artistry field. I resided there for 6 years till I relocated to Atlanta to start working more in production. I truly feel so honored to work with all my beautiful brides, clients & models day to day. As well as my passion for Film & TV I'm lucky enough to have worked on a lot of the major film, television shows & commercials that film here in the great South & beyond.
"I don't just find inspiration in the obvious forms; I look for it in the oddest." This should be something everyone,make-up artist or not, should live by. When all is said and done, there is no feeling more joyous or wonderful as the one when my client's look in the mirror and not only look beautiful, but feel beautiful in their own skin. This passion for beauty that I adore is transcended by every person that sits in my chair and I hope I can make them feel as wonderful as they make me feel.

Although there is still much more life to be explored and make-up in my mother's drawer to try on, I know that my canvas still has a lot of blank spaces and I can't wait to discover what is ahead of me.
Thanks for stopping by & I hope I can meet you, give you a hug & make you feel beautiful :)
Cheers!

keep scrolling…. :)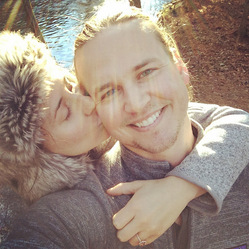 Things I LOVE
BESIDES HAIR & MAKEUP OF COURSE
Traveling
Yoga
LOVE
Cats (& all things fluffy)
The Ocean
Weekend Getaways
Nature
My Sweet Love - Bob <---- this handsome man to your left :)
Cookies - ALL TYPES no really all types
Pinterest
Sunshine
Quotes I live by
"I will not retire while I've still got my legs & my makeup box." - Bette Davis

" I believe in pink. I believe laughing is the best calorie burner. I believe in being strong when everything else seems to be going wrong. I believe happy girls are the prettiest girls. I believe that tomorrow is another day. And I believe in miracles." - Audrey Hepburn
"If we wait until we are ready we'll be waiting for the rest of our lives." - Lemony Snicket
"The worst enemy to creativity is self-doubt." - Sylvia Plath
"Never give up on a dream just because of the time it will take to accomplish it. The time will pass anyway." - Earl Nightingale
"Kindness is a language that the deaf can hear and the blind can see." - Mark Twain
"Confidence is everything, but a little makeup can't hurt." - Bobbi Brown